Returning Kiwis in a snapshot
So, what is prompting New Zealanders to return home, in many cases after several years spent building a life overseas? A recent MBIE survey, published on 21 October 2021, provides some interesting insights.
The survey was conducted among those arriving in New Zealand between 1 August 2020 and 1 April 2021, to get a better understanding of the impact of returnees on the New Zealand economy, housing, and labour market. A total of 9,553 people responded – mostly Kiwis returning to live in New Zealand, along with a small proportion of essential workers and other arrivals.
The survey paints a compelling picture of the aspirations and expectations of returning New Zealanders. For nearly half of respondents (48 per cent), Covid-19 was a factor in their decision to come to New Zealand. Interestingly, as many as 36 per cent of respondents had been living overseas for more than five years, while 17 per cent have never lived in New Zealand.
Most people were returning from Australia (30 per cent), followed by the UK (17 per cent), Asia (also 17 per cent), USA (9 per cent), and Europe (5 per cent). As for their visa status, two in three arrivals (67 per cent) were New Zealand citizens, 17 per cent were NZ residents, 8 per cent were Australian citizens or residents.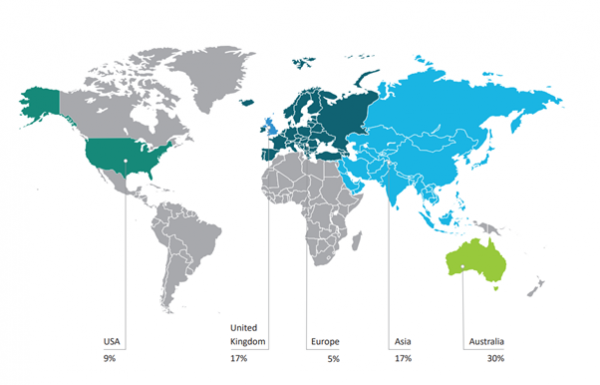 Why did they come/return to New Zealand?
Among the top five reasons, according to the MBIE survey, were:
Family-related or compassionate reasons (35 per cent);
Always intended to come/return at this time (33 per cent);
Came here/returned sooner than intended (26 per cent);
The good lifestyle that New Zealand offers (21 per cent);
Employment-related reasons (18 per cent).
It's also interesting to note that most people felt a strong sense of belonging to their family and whānau in New Zealand (74 per cent) and to New Zealand as a whole (65 per cent).
What about their skills?
As for skills and experience, 60 per cent of New Zealand arrivals had a bachelor's degree or higher. Only 11 per cent returned to a job already held in New Zealand; the majority either wasn't working in paid employment at the time of the survey (38 per cent), or had a new job in New Zealand (35 per cent).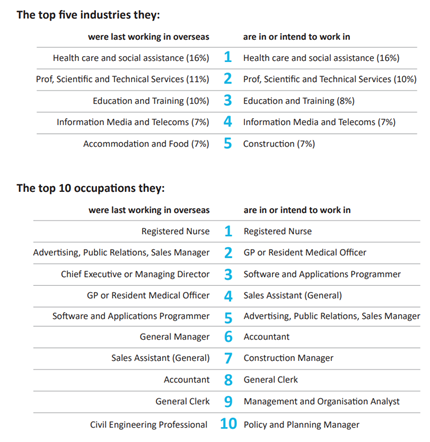 What is their living situation?
As this infographic shows, nearly one in three returnees surveyed were living in a place owned by family or friends, while 27 per cent were renting, and 19 per cent owned (or partly owned) their home.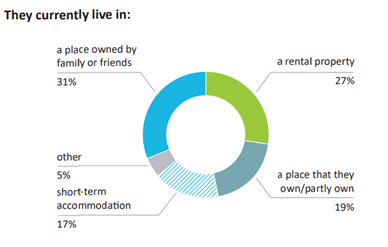 And most respondents (80 per cent) were happy where they were. The remainder said their place was either too expensive or too small, or had too many people living there.
And finally – do they plan to stay?
The MBIE survey gives some hints, although quite limited. Eighty-four per cent of respondents said they intended to stay in the region they were living in for at least three months. More revealing was another response: 22 per cent said they would leave New Zealand if the global Covid-19 situation improved.
With immigration largely on hold for the foreseeable future, the jury is still out on whether returning Kiwis will make up for the reduced numbers of other immigrants. In July 2021, Infometrics looked at what might be in store for Kiwis, both here and overseas.
According to their report, 157,143 people have been through MIQ between March and July 2021 – an average of 324 per day. Many of those are people staying for a short period of time, of course. But data also shows that, for the first time in four decades, New Zealand has recorded a net gain of NZ citizens. It's not that more Kiwis are returning – it's that more of those who are returning, are also staying. Only time will tell for how long, but in the meantime, welcome back.
Are you returning or have just returned from the UK?
Get in touch – we're UK pension transfer experts.
If you've already returned and are looking for quality advice on your options, you can request your free report on the benefits, risks, associated fees and costs, and ROPS fund recommendations based on your risk profile and investment goals. To get underway, click the link appropriate you:
Already arrived back in New Zealand - Click here.
Getting ready to head back to New Zealand from the UK - Click here.
Disclaimer: Please note that the content provided in this article is intended as an overview and as general information only. While care is taken to ensure accuracy and reliability, the information provided is subject to continuous change and may not reflect current developments or address your situation. Before making any decisions based on the information provided in this article, please use your discretion and seek independent guidance. Past fund performance is no guarantee of future returns.